WCF's Commitment to the Community
At WCF Insurance, we believe in community. We focus on building relationships, volunteering in the community, and financially supporting local organizations and individuals where we do business. 
In 1990, WCF Insurance started the Legacy of Learning Scholarship Program to give educational assistance to spouses and children of workers who lost their lives in compensable industrial accidents while working for WCF policyholders. WCF has awarded over 1,240 scholarships to families in excess of $2.4 million since 1990. 
Legacy of Learning
WCF Insurance's volunteer policy allows each full-time employee to use four work hours each month to participate in volunteer programs. 
Employee Volunteer Program
WCF Insurance awards scholarships to graduate students as part of the Dr. Paul S. Richards Safe Workplace Scholarship Program who are studying at the University of Utah's Rocky Mountain Center for Occupational and Environmental Health. The program helps facilitate education and training of students committed to a career of keeping workplaces safe and protecting workers. 
Safe Workplace Scholarship Program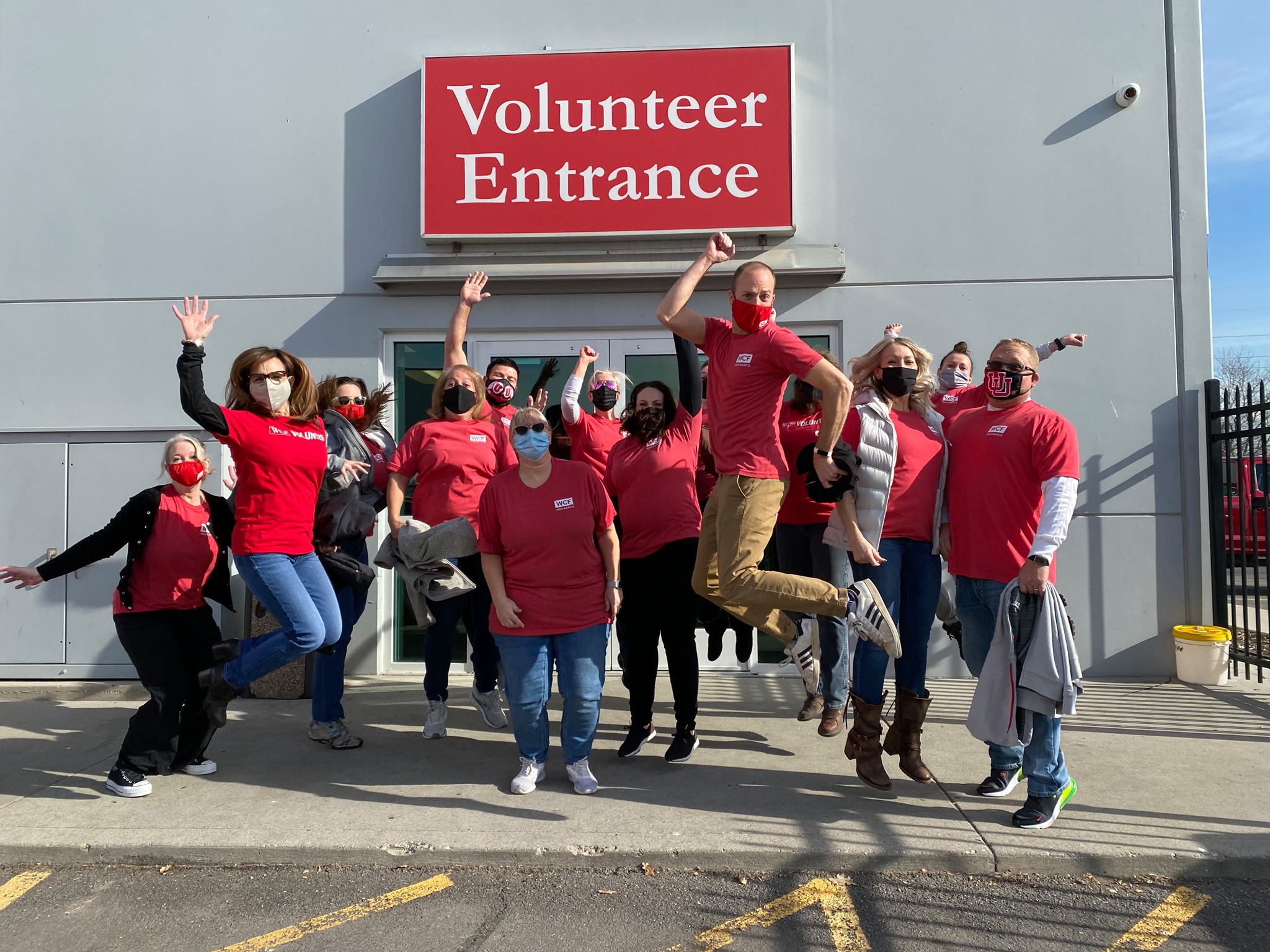 Common Questions
What is WCF's volunteer policy?
WCF Insurance's volunteer policy allows each full-time employee to use 48 hours each year to participate in volunteer programs. 
---
How does WCF make a difference in the community?
WCF Insurance and the WCF Foundation donated more than $3.3 million in humanitarian aid to charitable organizations and individuals in need last year. We strongly believe in giving back to the communities where we do business. 
Once each month, for the past 17 years, WCF has staffed the kitchen at the St. Vincent de Paul Dining Hall in downtown Salt Lake City.
We also host a number of other regular community events in the communities where we have offices. We also have an annual giving campaign and match employee's donations up to $1,000 to one of WCF's 15 core charities that are selected by employees. 
---
 

State-Specific Charitable Giving
 

Arizona
 
 
 

Since its inception in 1991, Genesis City has provided hope and a new beginning to more than 7,000 of the most disadvantaged teens in Maricopa County. Located in central Phoenix, Genesis City is a 501(c)(3) youth services organization that serves to strengthen communities. Genesis provides poverty-level 14- to 21-year-olds, the majority of whom are the first in their families to graduate from high school, the opportunity to re-access the education pipeline and blossom into successful lifelong learners and civically engaged community members. Genesis City's innovative programs break the cycle of poverty and contribute to the economic and social welfare of metropolitan Phoenix.
 
 

California

 
 
 

Serving communities in the Greater Bay Area and the Central Valley, Autism Speaks Northern California is dedicated to promoting solutions, across the spectrum and throughout the life span, for the needs of individuals with autism and their families through advocacy, support, and research.

Soroptimist is a global women's organization whose members volunteer to improve the lives of women and girls through programs leading to social and economic empowerment. Approximately 80,000 Soroptimists in 130 countries and territories support community-based projects benefiting women and girls. The Soroptimist International of Metropolitan Sacramento was chartered in 1983 and has been providing community grants to organizations for women and children in need in the Sacramento area.

The Table is an organization that provides hot and free meals five days a week to anyone facing hunger around Napa. It feeds the Napa area's most vulnerable populations, including those who might be too embarrassed to ask for a free meal. Diners include the elderly, children, veterans, and people experiencing homelessness. Meals are planned and respectfully served by volunteers from local community organizations. The Table's goal is to provide nutritious meals to anyone who is hungry, to offer a clean and safe place to dine, and to treat all diners with dignity and respect.
 
 

Colorado

 
 
 

From funding innovative research to advocating for government action to providing a support structure for the community, JDRF does more than any other organization to fight type 1 diabetes (T1D). The JDRF Mountain West Chapter serves as the hub of JDRF information and events in Colorado, Utah, and Wyoming.

Each student in the University of Colorado Denver's Risk Management and Insurance program receives some sort of financial support. The WCF Foundation was honored to provide a $25,000 scholarship to help students in the program. WCF's own Mark Wall of Highlands Ranch, Colorado, is on the advisory council where he gets to host shadow days for students, speak at events, and serve on the student connections committee.
 
 

Idaho

 
 
 

For nearly 100 years, the American Heart Association has been fighting heart disease and stroke and helping families and communities thrive. Since 1949, the organization has invested more than $4.6 billion in research funding and has seen a 15.1% reduction in deaths from heart disease since 2018. WCF's own Cindy Copple of Boise, Idaho, chaired the American Heart Association of Idaho's Go Red event in 2020.

The Idaho Foodbank was established in 1984 and has distributed millions of pounds of food through its facilities in Lewiston, Meridian, and Pocatello. In 2020, The Foodbank provided more than 18.6 million meals to Idahoans living with food insecurity. The Foodbank distributes food through a network of more than 400 partners, including schools, food pantries, senior centers, feeding sites, shelters, mobile pantries, and churches. Recognizing the crucial connection between hunger and health, The Idaho Foodbank focuses on providing nutritious food and collaborates with community organizations to promote nutrition education, wellness tools, and healthy living. The Foodbank also operates direct-service programs that promote healthy families and communities through good nutrition.
 
 

Nevada

 
 
 

Spread the Word Nevada is a children's literacy nonprofit, dedicated to advancing early childhood literacy by placing books in the hands and homes of children within Nevada's at-risk, low-income communities. With offices in Henderson and Reno, it works directly with specific elementary schools by providing hard-copy books in their libraries and coordinating reading events. Since 2001, Spread the Word Nevada has distributed more than six million gently-used and new books to more than 672,885 low-income youth in Nevada.

Big Brothers Big Sisters of Southern Nevada provides community-based mentoring, onsite mentoring, and special programs to families throughout southern Nevada. Based in Las Vegas, volunteer mentors work as role models with children in the community, in schools, and in foster care. Since 1974, the mentoring program has positively impacted performance in school and relationships with family and friends. This has resulted in successful students who are less likely to drop out, abuse drugs, or commit crimes.
 
 

Utah

 
 
 

Founded in 1904, Utah Food Bank has operated under various names but has always remained true to our mission of Fighting Hunger Statewide. 289,000 Utahns, which equates to 1 in 11 individuals, are at risk of missing a meal today. Last year, Utah Food Bank distributed 67.3 million pounds of food (56.1 million meals) via our network of 230 emergency food pantries and agencies statewide. 

In the state of Utah, one in nine people struggle with hunger. The mission of St. Vincent de Paul Dining Hall is to decrease that statistic by providing meals to those in need. In the 2020-2021 financial year, the facility served 476,542 meals.